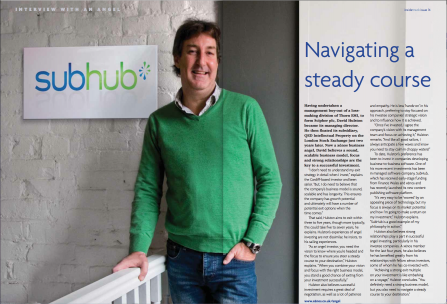 Navigating a steady course
Having undertaken a management buy-out of a loss-making division of Thorn EMI, to form Scipher plc, David Hulston became managing director. He then floated its subsidiary, QED Intellectual Property, on the London Stock Exchange just two years later. Now a xénos business angel, David believes a sound, scalable business model, focus and strong relationships are the key to a successful investment.
"I don't need to understand my exit strategy in detail when I invest," explains the Cardiff-based investor and keen sailor. "But, I do need to believe that the company's business model is sound, scalable and has longevity. This ensures the company has growth potential and ultimately will have a number of potential exit options when the time comes."
That said, Hulston aims to exit within three to five years, though more typically, this could take five to seven years, he explains. Hulston's experiences of angel investing are not dissimilar, he insists, to his sailing experiences.
"As an angel investor, you need the vision to know where you're headed and the focus to ensure you steer a steady course to your destination," Hulston explains. "When you combine your vision and focus with the right business model, you stand a good chance of exiting from your investment successfully."
Hulston also believes successful investment requires a great deal of negotiation, as well as a lot of patience and empathy. He is less 'hands-on' in his approach, preferring to stay focused on his investee companies' strategic vision and to influence how it is achieved.
"Once I've invested, I agree the company's vision with its management team and focus on achieving it," Hulston remarks. "And like all good sailors, I always anticipate a few waves and know you need to stay calm in choppy waters!"
To date, Hulston's preference has been to invest in companies developing business-to-business software. One of his more recent investments has been in managed software company, SubHub, which has received early stage funding from Finance Wales and xénos and has recently launched its new content publishing software platform.
"It's very easy to be 'wowed' by an appealing piece of technology, but my focus is always on its market potential and how I'm going to make a return on my investment," Hulston explains. "Sub-Hub is a good example of my philosophy in action."
Hulston also believes strong relationships play a part in successful angel investing, particularly in his investee companies. A xénos member for the last four years, he also believes he has benefitted greatly from his relationships with fellow xénos investors, some of whom he has co-invested with.
"Achieving a strong exit multiple on your investment is like embarking on a voyage," Hulston concludes. "You definitely need a strong business model, but you also need to navigate a steady course to your destination."